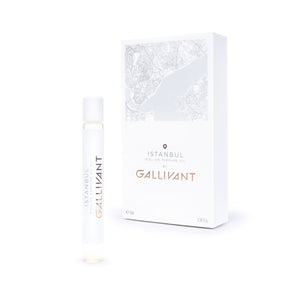 *お客様関税負担なし
<10ml Roll-on Perfume Oil>
パフュームオイル・ロールオンタイプ
内容量:10ml
「ISTANBUL(イスタンブール)」
ドライフラワーやエキゾチックなスパイスで賑わうグランドバザールのバルミーな世界に誘われるように、ラベンダーが弾けてカルダモンやタイムを重ねたリッチなアンバーベースへと変化していきます。ジェズヴェで淹れたコーヒーに似たまろやかな余韻を残すエレガントなフレグランスです。

<GALLIVANT(ガリヴァント)>
ガリヴァントはラルチザンパフューム(L'ARTISAN PARFUMEUR)のクリエイティブディレクター(~2015年)ニック・スチュワードがロンドンで手がけるインディパフュームブランド。南仏"香水の都"グラース近郊の丘カブリにある伝説の調香師エドモン・ルドニツカのラボで、一つ一つ摘んだ花からどこまでもピュアで希少なエッセンシャルオイルを素早く抽出。調合から包装まで全ての工程を手作業で行うまさにラルチザンなコレクションは、ニックが巡ったスタイリッシュでクリエイティブな都市の雰囲気にインスパイアされています。

ROLL-ON PERFUME OIL
East meets West - an ambery, woody, spicy fragrance.
Our Istanbul roll-on perfume oil is a great way to wear your favourite fragrance. Designed to be worn alone or layered with the Eau de Parfum, it can be applied to your body's pulse points. Or feel free to use in your hair.
Made with over 20% pure perfume oil, it's silky, hydrating and non-greasy. The non-alcoholic, palm-oil free, all natural base is vegan, cruelty-free and sustainable. 
Notes: Bergamot, cardamom, lavender, geranium and patchouli heart, sandalwood, myrrh, vanilla, tonka bean and amber
31A Duke Street London W1U 1LS United Kingdom