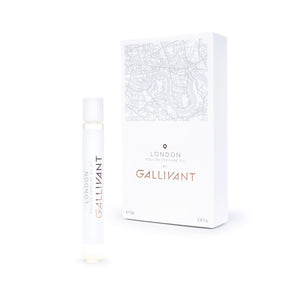 *お客様関税負担なし
<10ml Roll-on Perfume Oil>
パフュームオイル・ロールオンタイプ
内容量:10ml
「LONDON(ロンドン)」
バラが芽吹く季節で嗅覚的に映しだしたウェットなロンドン。トップからキュウリとレザーが親密に溶けあったイギリスらしい香りが漂います。肌を癒すような控えめのローズでユニークなフローラルレザーに仕上げました。かつてないほどジェンダーを意識させないフローラル感です。

<GALLIVANT(ガリヴァント)>
ガリヴァントはラルチザンパフューム(L'ARTISAN PARFUMEUR)のクリエイティブディレクター(~2015年)ニック・スチュワードがロンドンで手がけるインディパフュームブランド。南仏"香水の都"グラース近郊の丘カブリにある伝説の調香師エドモン・ルドニツカのラボで、一つ一つ摘んだ花からどこまでもピュアで希少なエッセンシャルオイルを素早く抽出。調合から包装まで全ての工程を手作業で行うまさにラルチザンなコレクションは、ニックが巡ったスタイリッシュでクリエイティブな都市の雰囲気にインスパイアされています。

ROLL-ON PERFUME OIL
East end boys, West end girls. Touch of grit, dash of glam - a floral, leather fragrance.
Our London roll-on perfume oil is a great way to wear your favourite fragrance. Designed to be worn alone or layered with the Eau de Parfum, it can be applied to your body's pulse points. Or feel free to use in your hair.
Made with over 20% pure perfume oil, it's silky, hydrating and non-greasy. The non-alcoholic, palm-oil free, all natural base is vegan, cruelty-free and sustainable. 
Notes: Cucumber, violet leaves, Rose de Mai absolute, orris root. Basenotes of suede, leather, sandalwood and cedarwood.
31A Duke Street London W1U 1LS United Kingdom