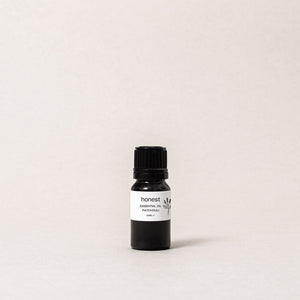 <ESSENTIAL OIL>
<Patchouli Essential Oil>
パチョリの香りは甘く、素朴でスパイシーです。 心を落ち着かせるオイルは、何世紀にもわたって、心を落ち着かせ、平和をもたらし、調和させるために使用されてきました。 葉は、衣服や室内用家具の香水によく使用されます。

植物名:ポゴステモンカブリン

抽出方法:植物の葉から水蒸気蒸留

シダーウッドやローズマリーと良く調和します。

自信と保護を象徴する。

10ml

注意事項:目に入らないようにしてください。内部に服用しないでください。皮膚に希釈せずに使用しないでください。 妊娠している場合はアドバイスを求めてください。 赤ちゃんには適していません。 子供から離して保管してください。
<Patchouli Essential Oil>
The scent of Patchouli is sweet , earthy and spicy. The calming oil has been used for centuries to soothe , induce peace and harmonise the mind. The leaves are often used to perfume garments and indoor furniture to cleanse.
Botanical name Pogostemon cablin
Extraction method Steam distilled from the leaves of the plant
Blends perfectly with cedarwood and rosemary
Symbolises self confidence and protection
10ml
Avoid contact with eyes .Do not take internally .Do not use undiluted on skin. Seek advice if pregnant. Not suitable for babies. Store away from children.
31A Duke Street London W1U 1LS United Kingdom