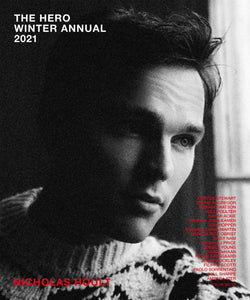 The HERO Winter Annual 2021 - Issue 05,  Nicholas Hoult 
The HERO Winter Annual 2021 is OUT NOW – featuring Nicholas Hoult on the cover in conversation with Kristen Stewart. Together in Stewart's Los Angeles house, the pair reflect on their careers and consider the changing cultural landscape that brings context to the stories they tell.
Inside – Fresh from his break-out role in Paolo Sorrentino's new semi-autobiographical film The Hand of God, cinema's new golden boy Filippo Scotti reconnects with the Italian auteur to discuss the project.
We document a private rehearsal inside the Royal Opera Housebetween Wayne McGregor, resident choreographer of the Royal Ballet, and Edward Watson, principal dancer, for Watson's last performance as principal in The Dante Project – a ballet createdspecifically for the dancer.
Peter Sarsgaard speaks to Jessie Buckley following the release of their acclaimed new film, The Lost Daughter – Maggie Gyllenhaal's directorial debut – and Resident Evil: Welcome to Raccoon City's protagonist Hannah John-Kamen is in-conversation with co-star Tom Hopper.
One of the UK's most respected and accomplished conceptual artists, Michael Craig-Martin probes the relationship between objects and images in relation to the current pandemic, in-conversation with Hans Ulrich Obrist, and British sculpture artist Thomas J. Price dissects his craft: translating his classical medium into a voice of contemporary provocation.
Fresh from the announcement that Will Poulter will star in James Gunn's latest Guardians of the Galaxy iteration, the actorspeaks with close friend and collaboratorNaomi Ackie, who is set to star as Whitney Houston in the upcoming I Wanna Dance With Somebody. Actor Odessa Young's next project is a cinematic reinterpretation of hit Netflix true crime docuseries, The Staircase – also starring Dane DeHaanwho talks with Young for this issue.
Acclaimed filmmaker Will Sharpe takes us through the psychedelic eccentricity of his upcoming biopic, The Electrical Life of Louis Wain, and from the middle of the Texan desert, Daisy Nam, curator of Ballroom Marfa, reflects on how the pandemic forced the art world to reinvent and reassess.
UK cover price: £15
*返品不可
(ki:ts) Londonshop / キーツ ロンドンショップ
31A Duke Street, London, W1U 1LS, the United Kingddom