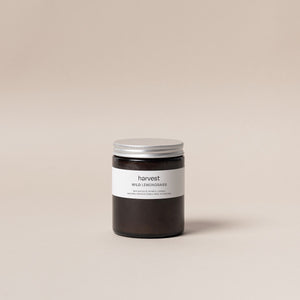 *お客様関税負担なし
<WILD LEMONGRASS CANDLE>
By hand – a constructed, travelling and moving, ultimately energetic aromatic: the citrus edge balance of Sicilian Lemon and wild Lemongrass embraces and pushes through bringing on the botanical Eucalyptus and warming Ginger and Cedarwood – returning you to yourself: here, rested, repaired, prepared.
Moods and memory: clarity, calmness, cool energy, building clarity and purpose – bathing in a narrow, oriental garden pool: around, a quiet noise energy, voices moving not near, not far; droplets, ferns, hazy herbal and fuzzy fora moment, I could lose myself – but when I emerge, I climb out, renewed and ready – and so I dress.
Our candles are made using soy wax, which gives a much cleaner burn than regular paraffin wax candles as it is non-toxic, a renewable source, natural, and burns longer. This makes it a much friendlier candle to burn in your home. Our wicks are made with eco-friends cotton coated in soy wax which again, help with an even, clean burn. They are each fragranced with a blend of organic essential oils and natural fragrances, giving you a higher quality of the scent. 
7oz
Burn time approx 35hrs
Handmade in England
31A Duke Street London W1U 1LS United Kingdom