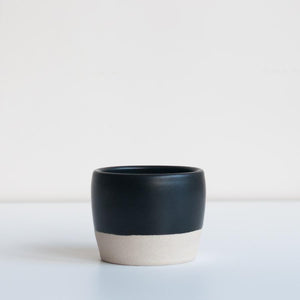 ミニマルのブラックティーボウルは、セントアグネスの地元のコーニッシュクレイで作られています。 ボウル状の形状が熱を早く発散するため、お茶に最適なように設計されました。 Origin Coffee Roastersでの作業中に、これらのカップはコーヒーやラテアートの作成にも最適であることがわかりました。
この黒い釉薬は、Origin Coffeeで開発され、ベルベットのように滑らかでマットな仕上がりです。
デザイナー:Sharron Page Stocks
寸法:Ø8H6 CM
容量:150 ML
産地:コーンウォールのセントアイブスで手作り
すべての作品は少しだけ異なります。
ケア:手洗いをお勧めします。 電子レンジとオーブンはお勧めしません。
Our minimal black Tea Bowls are made with local Cornish clay from St. Agnes. They were first designed to be great for tea as the bowled shape dispels heat faster. Whilst working with Origin Coffee Roasters we found these cups are perfect for coffee or creating latte art as well.
This black glaze was developed with Origin Coffee and has a velvety smooth, matte finish.
Designer: Sharron Page Stocks
Dimensions: Ø8 H6 CM
Capacity: 150 ML
Origin: Handmade by us in St Ives, Cornwall
Hand thrown and glazed! Every piece is just a little bit different.
CARE
Hand washing is advised; microwaves and ovens are not recommended.
31A Duke Street London W1U 1LS United Kingdom