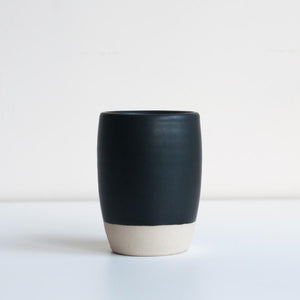 *お客様関税負担なし
このマットブラックタンブラーは、セントアグネスの地元のコーニッシュクレイで作られています。 容量はラテとコーヒー用に設計されましたが、冷たい水、または夏の日の自家製レモネードにも同じくらい最適です。
この黒い釉薬は、Origin Coffee Roastersで開発され、ベルベットのように滑らかでマットな仕上がりです。
デザイナー:Sharron Page Stocks
寸法:Ø7H10 CM
容量:240 ML
産地:コーンウォールのセントアイブスで手作り。
すべての作品は少しだけ異なります。
ケア:手洗いをお勧めします。 電子レンジとオーブンはお勧めしません。
These Matte Black Tumblers are made from local Cornish clay from St Agnes. The capacity was designed for lattes and tall coffees, but a big glass of cool water or homemade zesty lemonade on a summers day would be just as pleasant.
This black glaze was developed with Origin Coffee Roasters and has a velvety smooth, matte finish. 
Designer: Sharron Page Stocks
Dimensions: Ø7 H10 CM
Capacity: 240 ML
Origin: Handmade by us in St Ives, Cornwall.
Hand thrown and glazed! Every piece is just a little bit different.
CARE
Hand washing is advised; microwaves and ovens are not recommended.
31A Duke Street London W1U 1LS United Kingdom