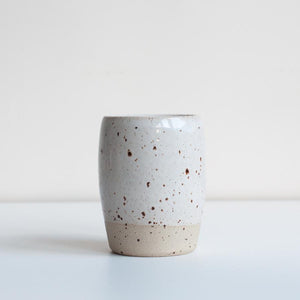 これらのミニマルのホワイト斑点タンブラーは、セントアグネスからの地元のコーニッシュ粘土で作られています。 容量はラテとコーヒー用に設計されましたが、冷たい水、または夏の日の自家製レモネードにも同様に最適です。 これらのカップの形状は、ボートの船体の湾曲を反映しており、手で持つのに最適な形状になっています。
これらのカップの斑点のある外観は、粘土の鉄の堆積物によって作成され、加熱すると釉薬を通して出てきます。
デザイナー:Sharron Page Stocks
寸法:Ø7H10 CM
容量:240 ML
産地:コーンウォールのセントアイブスで手作り
すべての作品は少しだけ異なります。
ケア:手洗いをお勧めします。 電子レンジとオーブンはお勧めしません。
These minimal White and Speckled Tumblers are made from local Cornish clay from St Agnes. The capacity was designed for lattes and longer coffees, but a big glass of cool water or homemade zesty lemonade on a summers day would be just as nice. The shape of these cups reflects the curvature of boat hulls, making the form perfect for cupping in your hand. 
The speckled look of these cups is created by iron deposits in the clay which when fired emerges through the glaze.
Designer: Sharron Page Stocks
Dimensions: Ø7 H10 CM
Capacity: 240 ML
Origin: Handmade by us in St Ives, Cornwall


Hand thrown and glazed! Every piece is just a little bit different.
CARE
Hand washing is advised; microwaves and ovens are not recommended.
31A Duke Street London W1U 1LS United Kingdom